In an attempt to get rid of the clutter and put things away, I have developed a "mail center". I got a lot of ideas from
A Bowl Full of Lemons
. She did a challenge in January and it really helped to see how people all over the country- world organized different areas of their homes. Every house is set up differently, so I picked and chose different aspects from the examples linked to her page. Check it out, it's neat!
This project has been in a work in progress. I started off with these pieces of fabric and hanging file bins.
I used Mod Podge to attach the fabric to the bins, Andy hung them up and they looked like this...
The first part of this project was a mail center to help with our filing system. It started out at the desk, but I moved it, because the papers were never ending up in the filing system Andy we just ended up carrying them all over the house and things were still getting lost. I got this box at Wally World and added hanging file folders to it. I also put a couple of monograms on the box, using my Silhouette.
Before, on the desk
The system: 1 for each member of the family, 1 to pay, 1 to file, 1 receipts, 1 grocery/coupons (for lists, recipes, coupons), and 1 for phone books (this one might not last long, because it's no longer by the phone).
Here is the box in its new home by the back door where we enter the house 99% of the time. I got this cute table at a store here in town called Wall to Wall. I intend to paint it black when the weather warms up.
As you can see from the previous picture, I added some more "stuff" to the mail center. I used my Silhouette to cut out the words: Mail, In, & Out. I had to used Tacky Glue to get the letters to stick to the fabric. I'm not sure if the ones on the wall will stay... I used Silhouette's Flock dark brown Vinyl and it doesn't seem to be holding all that well. I may have to cut it out of a different vinyl, but I LOVE the look! Also I "covered" a small cork board that we had hanging up by the desk with a coordinating fabric. When Andy gets home, he will be hanging it! :)
Here are a couple more pictures of the finished product...
I can't wait for Monday and the mail to arrive!!!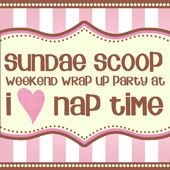 And